[NEWS] Rotary Club Donated Mobile Library Van to KPL, Promoting Reading in Remote Area
Date:2021-07-02

:多元文化部

Rotaract Club of Kaohsiung Harbor City, Rotary International 3510 supported KPL's concept of equal rights for reading. Therefore, 9 Rotaract clubs together donated a mobile library van to join the remote campus storytelling tour and provide book borrowing service in order to manifest its 2020-21 core value "Rotary Opens Opportunities." The donation ceremony was cancelled in response to the epidemic, and it was replaced with warm gestures of Rotary International 3510 on Facebook. Director Qiu Kun-He of Rotary International 3510 emphasized that all the scheduled Rotary gatherings were cancelled due to the epidemic. Taking care of the disadvantaged in the rural areas has been the core spirit of Rotary Club, therefore, during the epidemic, it still finds a way to donate a mobile library van, and pray that the epidemic will ease as soon as possible so that the van will be able to exert its mobility and functionality.
Last year (2020), Rotaract Club of Kaohsiung Harbor City donated one Southeast Asian mobile library van to benefit nearly 60,000 South-east Asian migrant workers living in Kaohsiung. The utilization rate of this van has risen significantly, which suffices to show that mobile library van has driven the reading culture and spiritual reform. This year, Rotary International 3510 has Rotaract Club of Kaohsiung Harbor City organizing and calling for its counterparts to jointly sponsor a mobile library van for the campus tour in remote areas. Together, Rotary Club of Kaohsiung Grand Harbor, Rotary Club of Kaohsiung Da-Ai, Kaohsiung Southeast Rotary Club, Kaohsiung Southern Star Rotary Club, Kaohsiung Yuanshan rotary Club, Kaohsiung New Town rotary Club, along with sister clubs, the Rotary Club of Taipei Sunrise, and Rotary International 3740 South Korea Rotary Club sponsored this initiative. In reviewing this Global Grant project, Rotary International 3510 especially valued the actual effect of mobile book vans going to the rural campuses. In response to this, deans of academic affairs from several elementary schools, including Meinong, Liugui, Qishan, Neimen and Hunai elementary schools, all pointed out that students have experienced remarkable improvement in Mandarin, science, and essay-writing thanks to the increased opportunities of reading extracurricular materials.
Cui, Bin-Hong said that he used to come to the International Picture Book Center (IPBC) at KMPL with his two grandchildren, but this life routine was disrupted by the epidemic. Rotary International 3510's timely donation of a mobile book van has served as a kind gesture and a great example calling for all sectors to support KPL's mobile book library and Story Mama Theater Company's remote campus program. It is hoped that the seeds of happiness and knowledge will be spread to all corners.
Lin, Yi-Cheng, acting director of KPL expressed his heart-felt appreciation to Rotary International 3510 for their timely warm and loving gesture during the intense epidemic. He believed that once the mobile book van is in service, it will increase the number of tours in remote rural campuses to promote KPL's diverse reading program.
On the left is Lin, Yi-Cheng, acting director of KPL presenting the model of the mobile book van to Cui, Bin-Hong, president of Rotaract Club of Kaohsiung Harbor City, to express his appreciation.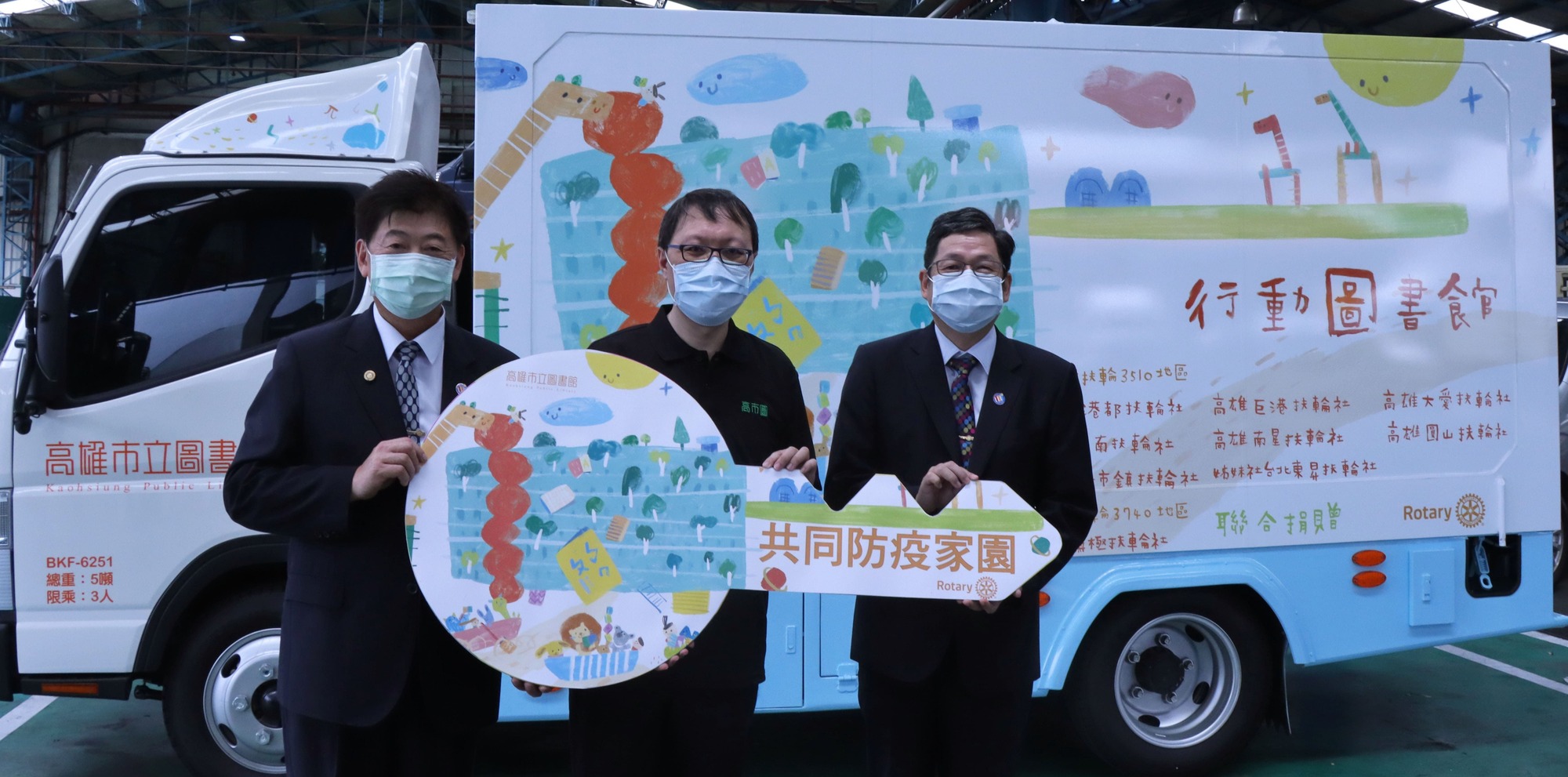 Rotaract Club of Kaohsiung Harbor City called for its counterparts for joint sponsorship of one mobile book van to donate to KPL. The van was delivered directly from the car factory. From left to right in the picture are Cui, Bin-Hong, president of Rotaract Club of Kaohsiung Harbor City, Lin, Yi-Cheng, acting director of KPL and Chen, Liang-Ming, secretary-general of Rotaract Club of Kaohsiung Harbor City.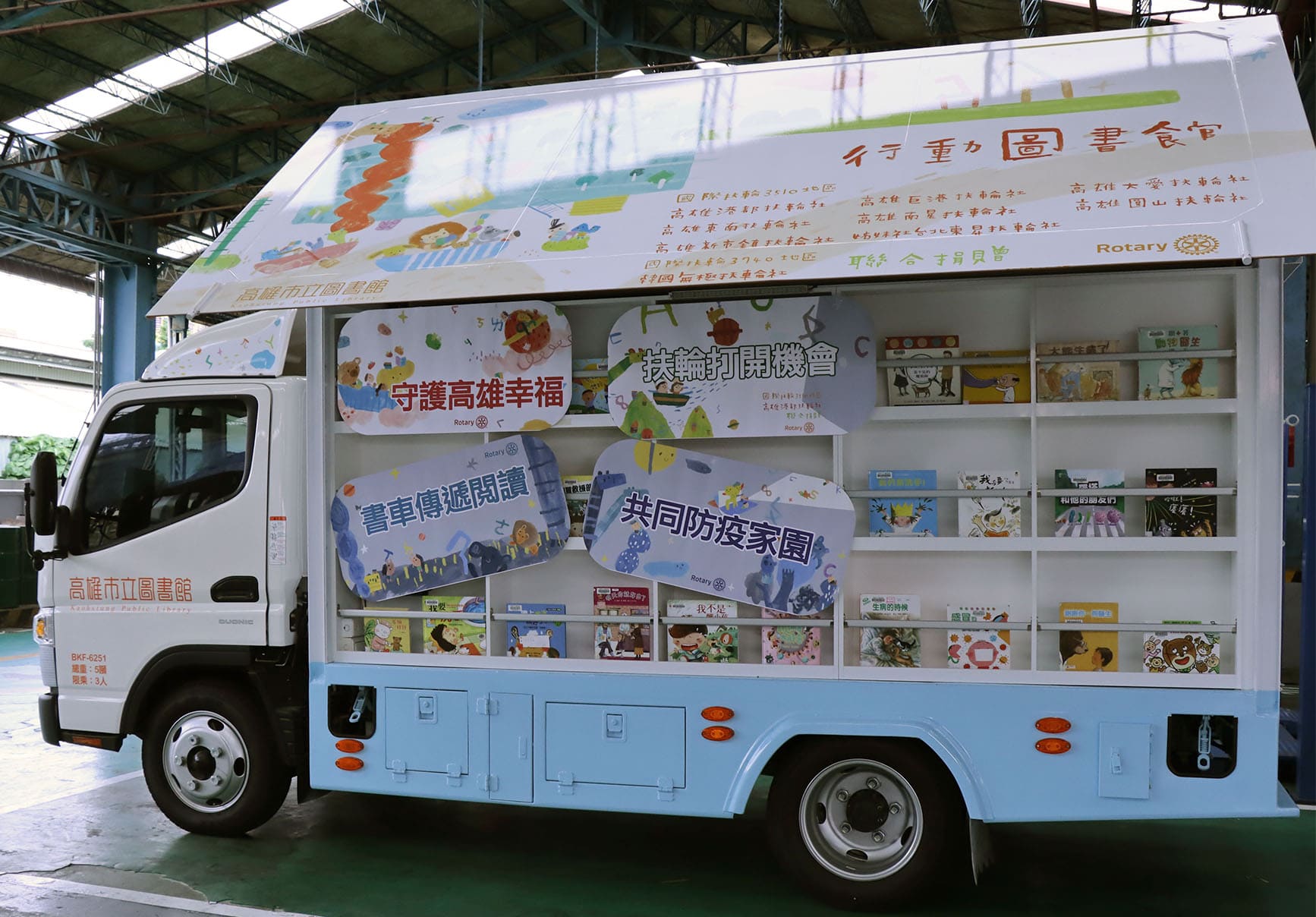 New mobile library van donated by Rotaract Club.
WebSite:
https://www.ksml.edu.tw/Latestevent/Details.aspx?P..