[NEWS] Kaohsiung and Busan Celebrated 55th Anniversary of Sister City Relationship with "Lights On" Activities
Date:2021-07-21

:多元文化部


Kaohsiung City and Busan City became sister cities on June 30th, 1966. To celebrate the 55th anniversary of the sister city relationship, both cities held a series of commemoration activities from the end of June to early July, including special exhibitions to introduce features of the sister city. At the same time, through "Lights On" activities at various landmarks, the two cities cheered each other up during the pandemic and demonstrated their long-lasting friendship.
On June 30th, 2021, the Vision Bridge, Dadong Arts Center and Kaohsiung Main Public Library in Kaohsiung were all illuminated by blue lights, as blue is the representative color of Busan. The Department of Administrative and International Affairs of Kaohsiung City Government also arranged for the Vision Bridge to show "Lights On! Busan" on the bridge to commemorate 55 years of friendship with Busan.
On the same date, Gwangandaegyo Bridge, the Busan Cinema Center and Busan Tower are illuminated with Kaohsiung's representative colors of gold, red, green and blue. The phrase "Lights On! Kaohsiung Fighting" was shown on Gwangandaegyo Bridge to support Kaohsiung's effort to fight against the pandemic.
According to the Department of Administrative and International Affairs of Kaohsiung City Government, Busan City has organized a photo exhibition of Kaohsiung at the city hall for citizens of Busan to know more about architecture and landmark attractions in Kaohsiung. The photo exhibition of Busan organized by the Department of Administrative and International Affairs was unfortunately postponed due to the pandemic, but the Department has arranged to hold a theme exhibition to showcase the sister city relationship between Kaohsiung and Busan. Gifts and souvenirs provided by Busan City Government, including the painting of Gwangandaegyo Bridge and camellia lamp cover, will be displayed at the exhibition space on the ground floor of Sihwei Administration Center.
A video featuring Mayor Park Hyeong-joon of Busan giving a greeting speech for the 55th anniversary is also shown at the site. Mayor Park mentioned that Busan and Kaohsiung share a lot of similarities as both cities are harbor cities and Busan is the second-largest city in South Korea. He also said that he sincerely valued the friendship between the two cities.
Despite all the challenges posed by the pandemic, Kaohsiung City Government will continue to find new ways to maintain our international relationships with other cities and countries, said Pin-Ho Hsiang, Director-General of the Department of Administrative and International Affairs. 55th anniversary is indeed an important landmark for both Kaohsiung and Busan. Both cities express their sincere hope that they can have face-to-face communication and exchange when the pandemic comes to an end.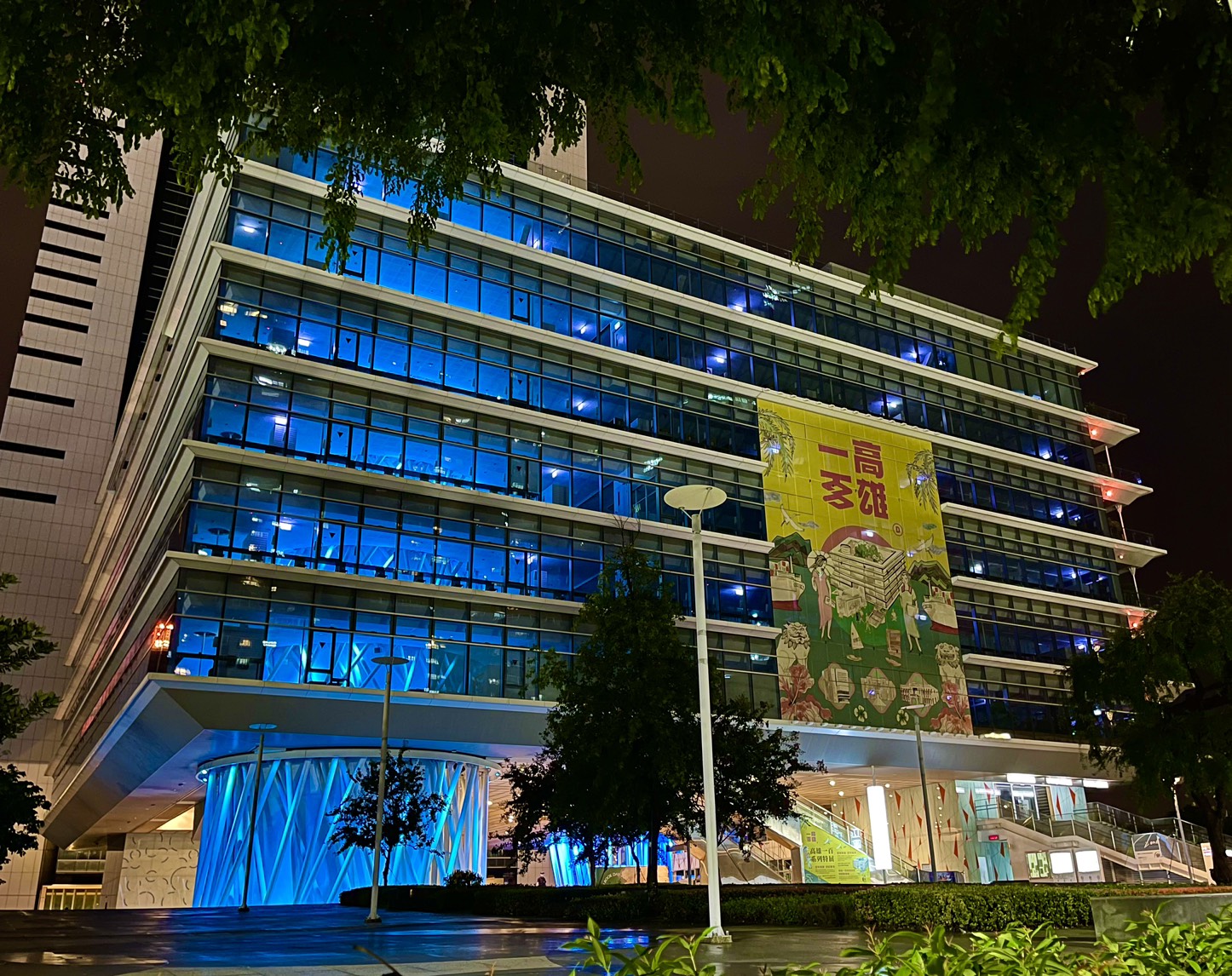 Kaohsiung Main Public Library lit up in blue, the representative color of Busan for the "Lights On" activity.